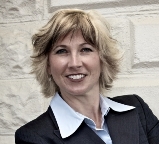 Heidi works closely with SalezWORKS and is founder and Principal of MOSAIC Non-Profit Development. She is a dynamic development professional with sixteen years experience in non-profit management and institutional advancement. She has demonstrated success by raising over $65 million in annual, major gift, and capital campaign funds for art museums, theaters, dance companies, faith-based organizations, and social service providers in both rural areas and urban centers across the United States. Her successful record of forecasting, strategic analysis, and enhancement of revenue during down economic cycles complements her specific expertise in fund raising, strategic planning, operational management, and board development in both start-up and multi-million dollar not-for-profit environments.  Heidi focuses on enhancing organizational sustainability by building sound development programs.
Prior to her consulting work, as Director of Development for Boston Ballet, Heidi managed a staff of 16 and focused on integrating planned and leadership giving across the development programs. During her tenure she raised over $7.6 million, identified the potential support base capacity of approximately $10 million annually in major gifts, increased annual fund receipts from $5m to $8.2m, and created the campaign plan to build the major gift and planned giving programs.
While serving as the Director of Development for Kansas City Ballet, Heidi built the development program from a 1 person operation to a 5 person department while increasing the annual fund receipts from $1.7 million to $2.4.  In addition to building the annual fund, she mounted the organization's first capital campaign of $25m and raised $17m within the first year, while building a corporate sponsorship program and establishing the first planned giving program for KCB.
Heidi holds a Master's degree in Arts Administration from The University of Akron and the CFRE (Certified Fund Raising Executive) certification. She has served for 6 years as the chair for the Development Council for Dance USA, acted as committee chair for the Mid America Chapter and the Massachusetts Chapter of the Association of Fund Raising Professionals, served the Missouri Arts Council as a site evaluator, and acts as mentor for Women in Development. Heidi is based in Boston, MA.