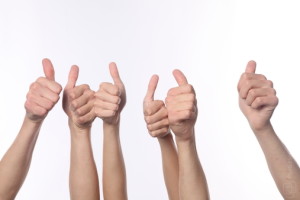 We can't take all the credit for the results our clients have experienced as they had a lot of work to do in the process. Following are a few of their stories:
Nothing happens until you sell something" is one of those obvious statements that entrepreneurs forget sometimes. We get more focused on our craft than on our cash flow. But Breandan Filbert has the skill to teach the how's and why's of selling – and she holds her students accountable! When you work with Breandan, you will be highly motivated to develop the good habits that will make you successful.
More importantly though, Breandan is an expert coach on how to develop a referral network. And referrals are the most productive source of new business. I highly recommend Breandan's class "9 Steps to Productive Prospecting" for anyone who needs a more efficient way to make contacts who can take their business to the next level. Hmm … isn't that all of us?
Molly Proffer – Owner, Proffer Productions
_______________
Breandan Filbert is an extraordinary business/career coach. She finds out where you want to take your business, what your goals are, and pushes you to achieve beyond that. She is not one dimensional as are many of the "coaches" out there, but will help you improve in all areas of your professional and personal life. She will make you stretch, but will be right there with you as you do. If it hasn't been done she will create a way to do it. Breandan and her partners at SalezWorks are people you need to know.
Jim Mellon – CEO, Noise Reduction System
_______________
If you want to lower the percentage of business that comes from cold calling and other outdated sales tactics, contact Breandan about how her company's services can teach you the benefit of referral marketing. As an accomplished sales professional with an outstanding track record, Breandan knows how to use and leverage the power of sales referrals to grow a business. She has done it with her own business, and in the short time I've know her, I've seen how many other businesses are using it to their advantage as well. Breandan is an expert at referral sales and walks her talk with a genuine interest in her clients' success. I highly recommend Breandan to anyone who wants to take their company to the next level.
Alicia Falcone – Marketing Consulting for Professional Service Companies
_______________
I was introduced to Breandan and "9 Steps to Productive Prospecting" in 2008. Although I worked for a Fortune 400 company, I found the universal training they provided to be inadequate, so I invested my own money in the personalized training Breandan provided. After the first class, I knew that this was a great investment as my ability to identify, communicate with, and develop mutually beneficially business relationships was enhanced tremendously. My return on investments was 4-to-1 before the end of the five week course! It is the most valuable and enjoyable training I have ever participated in.   Today I work for a relationship focused community bank, and I will continue to take advantage of Breandan's training opportunities.
Tony Parker – Vice President, Commercial Banking at UMB Bank
_______________
Alterra Bank was founded in 2010 on the premise of doing banking differently.   Most of us came from large banks but all share a common entrepreneurial spirit which has been demonstrated in our approach to business.   We do things differently at Alterra and the best way to tell that story is through referrals.  In 2013 we added new divisions with Private Banking and Residential Mortgage and as a typical small business we recognized the challenge of building a culture of new business development while on boarding new hires and integrating their key relationships.   I had participated in and been an advocate of the 9 Steps to Productive Prospecting system for several years and knew it would help the bank shorten the sale cycle typical in our industry and allow us to consistently win the relationships we were seeking to sustain our growth.   Customizing and Integrating the 9 Steps approach into the Alterra sales culture has paid off in a multitude of ways.  We have internal client managers who now recognize the value of deepening client relationships with internal referrals to other divisions in the bank as well as expanding their personal centers of influence and reaching new prospects.  Our new team members have also been able to leverage their former relationships and immediately build a pipeline that has resulted in a much shorter ramp up and quicker integration into our bank.    Our existing lenders have also been able to expand existing client relationships through internal introductions as well as better utilization of their existing relationships in new business development.
When you have a story to tell that seems to be the same as everyone else in an industry that is sometimes looked at as a commodity, referrals make all the difference in how that story registers with prospects.  And if you are adding new people, new products or have the opportunity to integrate new initiatives into an existing team – this system really works!
~ Jason Moxness, Chief Banking Officer at Alterra Bank
______________
From my business networking I had heard of you and your course before but there was a significant gap between my impression of what the 9 Steps course was going to be and what I actually gained.  As I spoke with people prior to completing the course, a lot of the discussion was on the animal analogies in prospecting for new clients. While this is a valuable exercise, I feel the heart of the course is so much greater.
In the book, The Pumpkin Plan: A Simple Strategy to Grow a Remarkable Business in Any Field, Mike Michalowicz discusses referrals. He recommends that instead of asking your best customers for names of other customers just like them, that, instead, you ask them for their best vendors/suppliers/partners. These then are companies that are doing a good job of servicing the same types of clients you are servicing and more likely to have connections to similar prospects.
Your course takes this to the next level and puts structure and builds a long term relationship network around those companies. The course moves this from being a "one-time ask" to an ongoing relationship where the focus becomes much more on mutual referrals and recommendations instead of simple introductions.
~ Tim New, President at Onsite Logic