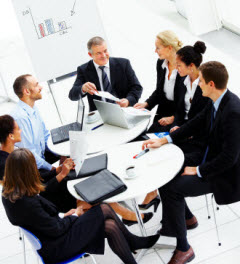 Investing in sales force development is one of the most powerful actions you can take to ensure your current and long-term business success.
Why?
Because nothing happens without sales.
And sales don't happen without prospecting.
Today's most competitive and compelling teams are doing business a new way. They have thrown away the cold calling, business card gathering ways of the past and adopted the strategies of creating ongoing client relationships and fruitful referral partner networks so that their prospecting has teeth.
It didn't happen by chance.
The American Society for Training and Development, Inc. found that for every increase of approximately $700 per employee in training, there was a six percent improvement in total shareholder return the following year.
SalezWORKS offers multiple customized and tailored prospecting training solutions that are brought to you and your team when and where you need them.
Whether your organization needs the foundational elements of the SalezWORKS proprietary 9 Steps to Productive Prospecting training or more advanced training solutions, we can provide highly effective solutions that will result in immediate benefits. We offer focused training and development on:
Hiring the right salespeople for your team
Time management for organizations
Managing the middle
Maximizing your referral partner relationships
SalezWORKS team-specific training can be one of the most powerful and impactful investments you can make in the success of your team, its members and your company. Really.
Contact us here to get your solution development and planning underway.