Nearly everyone needs more sales, but first you need prospects. Creating or improving your referral network can be one of the best ways to find solid, qualified prospects again and again.
Whether you are just getting started with prospecting, networking, referral partnerships – and maybe even sales – and need a guiding light (or two) to help you or have already started building a network, SalezWORKS can help you build a solid network foundation or improve the one you've already gotten off the ground.
The The 9 Steps to Productive Prospecting Self-Study course is SalezWORKS' flagship course that gets you fully equipped to identify your ideal client, connect with them in meaningful way, create and nurture a strong referral partner network and keep it all fully sustainable so that your prospecting efforts keep producing great results. Click here to learn more and purchase for your own success library.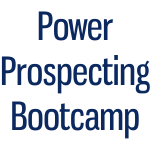 The Power Prospecting Bootcamp is a 4-module virtual bootcamp coming to you live via the convenience of GoToWebinar. If you are looking for solid strategies to create your banner sales year (no matter when you are starting), this virtual bootcamp will help you find the exact strategies and techniques that are going to work for you to do just that. The live version of this bootcamp is now closed. Go here to get on the waitlist for the self-study version.



Not sure if this is the best fit for you? Drop us a line at Admin@SalezWORKS.comand let us know how we can help.